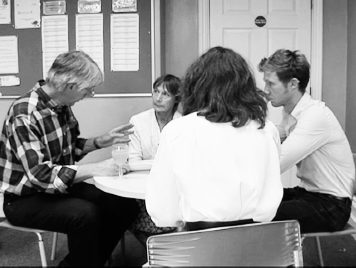 What rating would you give your leaders or colleagues for their ability to challenge behaviour effectively? When and how did you last evaluate their conversational capability?
Thinking of specific members of your leadership population, what would you score each of them out of 10 for their ability to pay attention to others, generate genuine thought in them and be mentally agile throughout their conversations?
And then consider if they all improved, even by just a few percent, what would be the cumulative organisational benefits?
Imagine each of your leadership population being just 10% more skilled in their capability at using everyday conversations and interactions to cause others to think through issues, to become more aware of what really matters, and to take appropriate ownership and responsibility.
What would the impact on organisational performance be?
Experience tells us that the three day programme is necessary to see real skill growth and measurable change in the participants. We can offer shorter programmes but inevitably the effectiveness is reduced. Call and speak to me about your needs and we I can recommend the best option for you. For larger programmes I have trusted colleagues who are skilled in the process so larger numbers can be accommodated.
FAQs answered about the Effective Performance Conversations programme.
What is it?
A most innovative and engaging programme that increases the competence and confidence to use everyday conversation to maximise performance and development. Having the skill to use conversations, however brief, to raise awareness by generating real thought in others leads to higher levels of personal responsibility for delivery and development.
Who is it for?
Often used within a culture change context, Performance Conversations is for anyone serious about constantly improving performance and enhancing their ability to develop those around them.
What makes Performance Conversations so effective?
A unique blend of 3 core principles.
Having effective performance conversations is a skill to be mastered rather than an intellectual concept to be understood.

Because it is a skill, our programme is only delivered by performance coaches who are practiced in the art of developing skill in others.

We do not do training; this programme delivers personal development in a group setting.
What does our focus on the individual look like?
Each participant works from their unique context.

Each participant identifies their own development agenda.

We do not do fiction therefore participants choose the real conversation topics they use for practise.

Each participant is helped to review their practise and receives ample individual feedback.
What is the programme format?
The core programme consists of 3 x 1 day sessions ideally separated by up to 2 weeks.

The gaps between the sessions are long enough to do the homework, but not so long that focus on the practise is lost. The experience gained by doing the homework not only helps to form the agenda for the following session, it also enables participants to self-generate proof that what they are trying is more effective.

Although based on sound neurological understanding, the programme is low on theory with no jargon, PowerPoint or 4 box models in sight. Performance Conversations is deliberately designed to be very challenging.

To generate real conversations for practice we use skilled actors and the participant's own topics of conversation.

Participants receive a comparative assessment of their conversational style at the start and end of the programme enabling them to measure their degree of travel.
Our maximum ratio of coach to participants is 1:6 which promotes high levels of disclosure, group cohesion, and a willingness to try some very challenging conversations. There is also the added benefit of there being no hiding place. This programme does not carry passengers!
Clients we have worked with include:
BAE Systems
LV Insurance
Brighton & Sussex University Hospital
Lambeth, Richmond & Sutton Councils